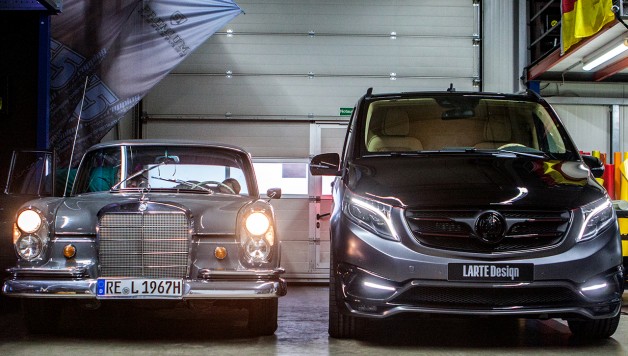 LARTE Black Crystal V-Class for Geneva Motor Show
In the late fifties and the sixties, a Mercedes W111 / W112, a great predecessor of the S-Class, was the ultimate car for long-distance business trips. Today, a tailor-made van might be an even better choice than a limousine because it can offer the comfort level of a premium private plane. This is impressively demonstrated by the LARTE Black Crystal, which is just heading for Geneva to be displayed at booth # 5042 of the famous Motor Show from 3 to 13 March 2016. However, the company publishes the first photos of the astonishing car even now.
The van, which is based on the Mercedes V-Class, is the perfect companion for long-distance trips, VIP-shuttling or management level meetings. It offers much space and the ultimate level of comfort. The improved car is called Black Crystal and pays homage to the identically named Mercedes GL-Class by LARTE Design. Like a precious diamond, the V-Class with the tuning package attracts attention with its expressive and unique body design, refined performance and accurate lines.
Brand new front and rear bumpers are made of composite materials and decorated with carbon elements. The front bumper has two inlaid crystals, symbolizing the name of the tuning package. This crystal served as the basis for a sketched design of this car.
The inspiring list of updates includes the latest development – fog lights with dual optical element bundled with the standard LARTE option – the LED daytime running lights that emphasize the aesthetic design of this business jet on wheels.
The logo with the company's horseshoe as a symbol of good luck and talisman perfectly fits into the overall design concept of the business car.
To complement the exterior, the van features a first-class interior, which has been built by Klassen. The German company from Minden is well known for its VIP car cabins, combining finest leather and materials, comfort seats, minibars as well as advanced communication, lighting and entertainment electronics.